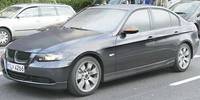 New 3-series spy shot


Bimmer Skinny: We take the wraps off BMW's next-generation 3 Series [autoweek.com] "The basic form of the 3 Series is long established," said recently promoted design boss Chris Bangle. "It's the proportions that are important; we have worked hard at getting them right. We want to make a new statement on an old theme."

Fresh off the heels of the new 6 Series and the European introduction of the 1 Series, comes word of the next iteration of BMW's 3 Series.

This is BMW's bread and butter, their volume leader and main bread winner. A car they can't afford to screw up. Spy photos of the 3 Series show a car that is firmly in the mold of the new Bangle design idiom, with many of the design vocabulary that is present in the new 5 Series and the Z4: The concave portion of the hood bulge from the 5, the flame surfacing of the side panels from the Z4, the relationship of rear deck treatment to the rear quarter panel is straight from the new 5. The kidney nacelle brows are from the new 7. And interestingly, from the rear quarter view the roofline and the character combine to give the new 3 a Jaguar-ish look.

Pages from a leaked brochure of the new 3 Series have interior shots that show the design themes continuing in the cockpit area: double binnacle dash, iDrive center display, and conventional HVAC controls.

Will the new 3 be capable of being the standard-bearing sports sedan that it has been the past 20 years? I like the exterior design. If the driving dynamics are well sorted out, then the only thing capable of holding it back will be iDrive. It seems BMW is sticking with it come hell or high water, and if unimproved from current iterations, could well mean the end of the road in terms of sport sedan dominance for the 3 Series.

Click here to read about the Performance Center Delivery of my 2005 M3.